So I just wanted to update folks on my E28, which has been mothballed since about 2010. My previous project in building out a hopped up M30 basically stalled near the end. I never got around to doing a dyno tune with a new exhaust. Albeit, the motor had a good baseline tune with the Miller Warchip and custom tuning software.
I bought a house in 2011, got married in 2012, and life kind of got moving while other projects came along and went. So fast forward to 2019, and realizing that my mom was downsizing from my childhood home and that I had a M88/3 ready and waiting to go, plus some disposable savings for this project, it was time to pull the trigger on a nearly full restoration of the M535i into a M5 clone. Basically making it a euro M5 that could have been one that went down the original assembly line.
This basically meant full body and paint, fixing any body issues and rust. Full M88/3 swap into the engine bay, with all M5 specific parts going in (subframe, changing the mounts, etc). Keeping the suspension and wheels I had on the car for now, but maybe just updating some of the front end rubber that needed refreshing. And doing the full battery conversion and electrical updates and wiring. Doing a shadowline conversion. And replacing all the subsystem parts to get it reliable.
So I kicked it off in the late Fall of 2019. News of upcoming addition to our family, plus the goal to sell the house where the car was stored, basically put a hard deadline on the project.
FYI, all pictures of the build here:
http://m535i.org/Resto2020/
Disassembly:
Happened over the course of about 5 full days in December 2019.
http://m535i.org/Resto2020/Disassembly/
First starting out with the rear of the car. This included removing the entire trunk and contents, including all electrical items, all trim (including trunk spoiler), and all gas supply subsystems. The fuel tank was removed, as was all of the pumps. Basically all that was left was the wiring harness (wrapped up against the trunk firewall), and the metal body from the C-pillars back. Suspension was left on because it has been recently redone (fully adjustable powdercoated subframe etc), and in good working order. It wasn't part of this refurbishment, but I have a Big Diff 3.91LSD that I'm resealing and repainting which will go into the car at some point. For now it is running a medium diff 3.73LSD.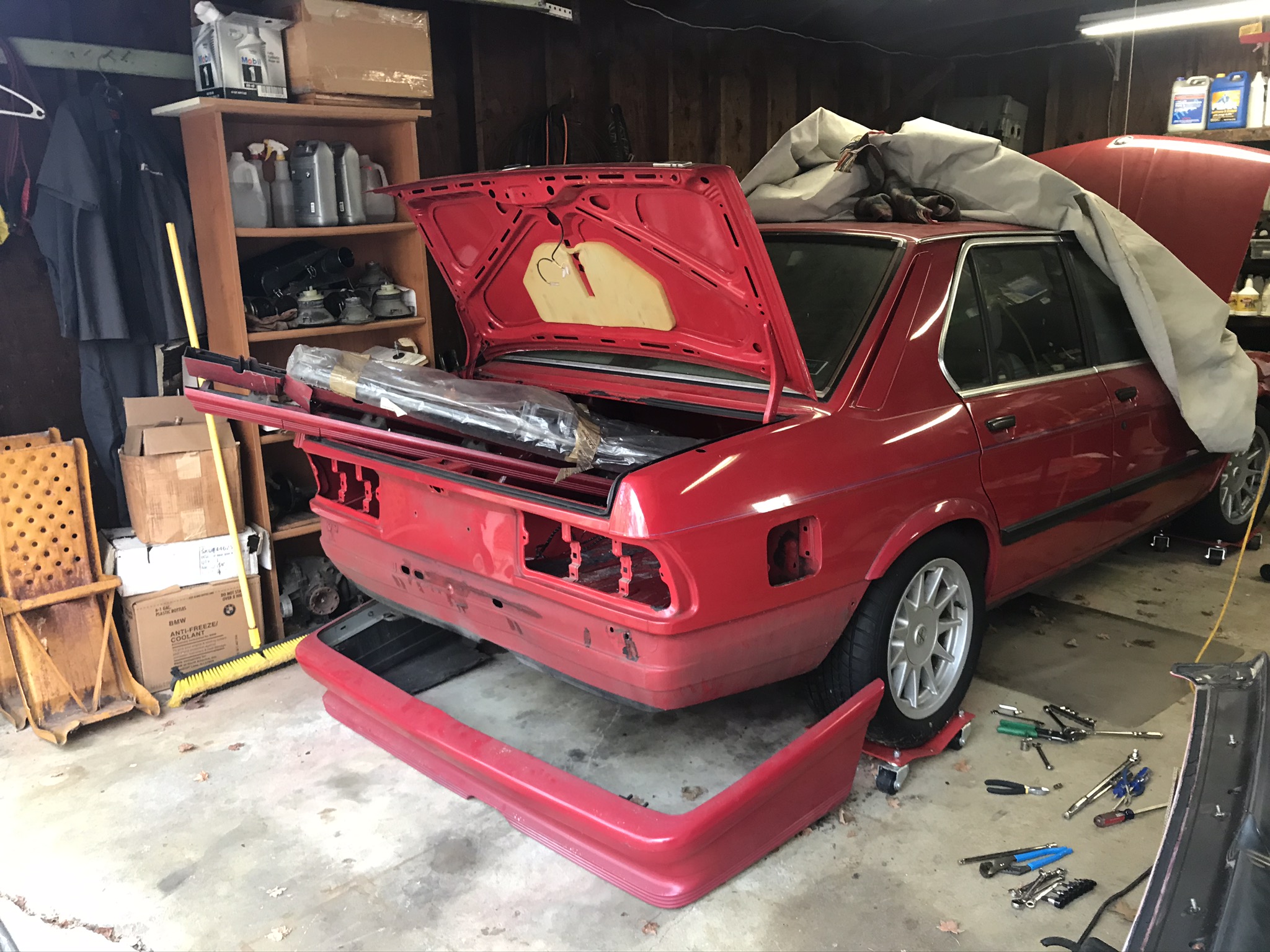 Second phase was the engine bay and entire front of the car.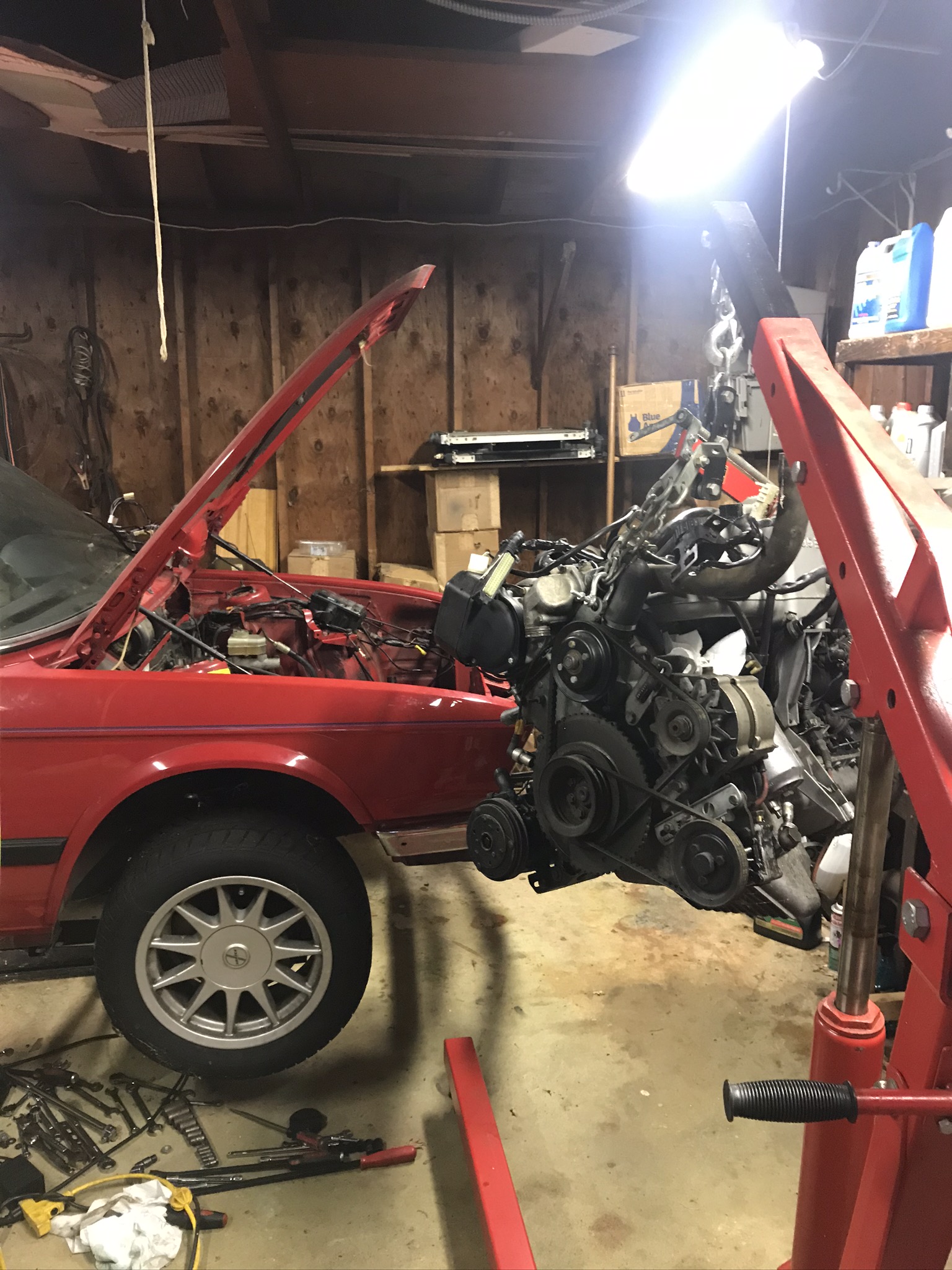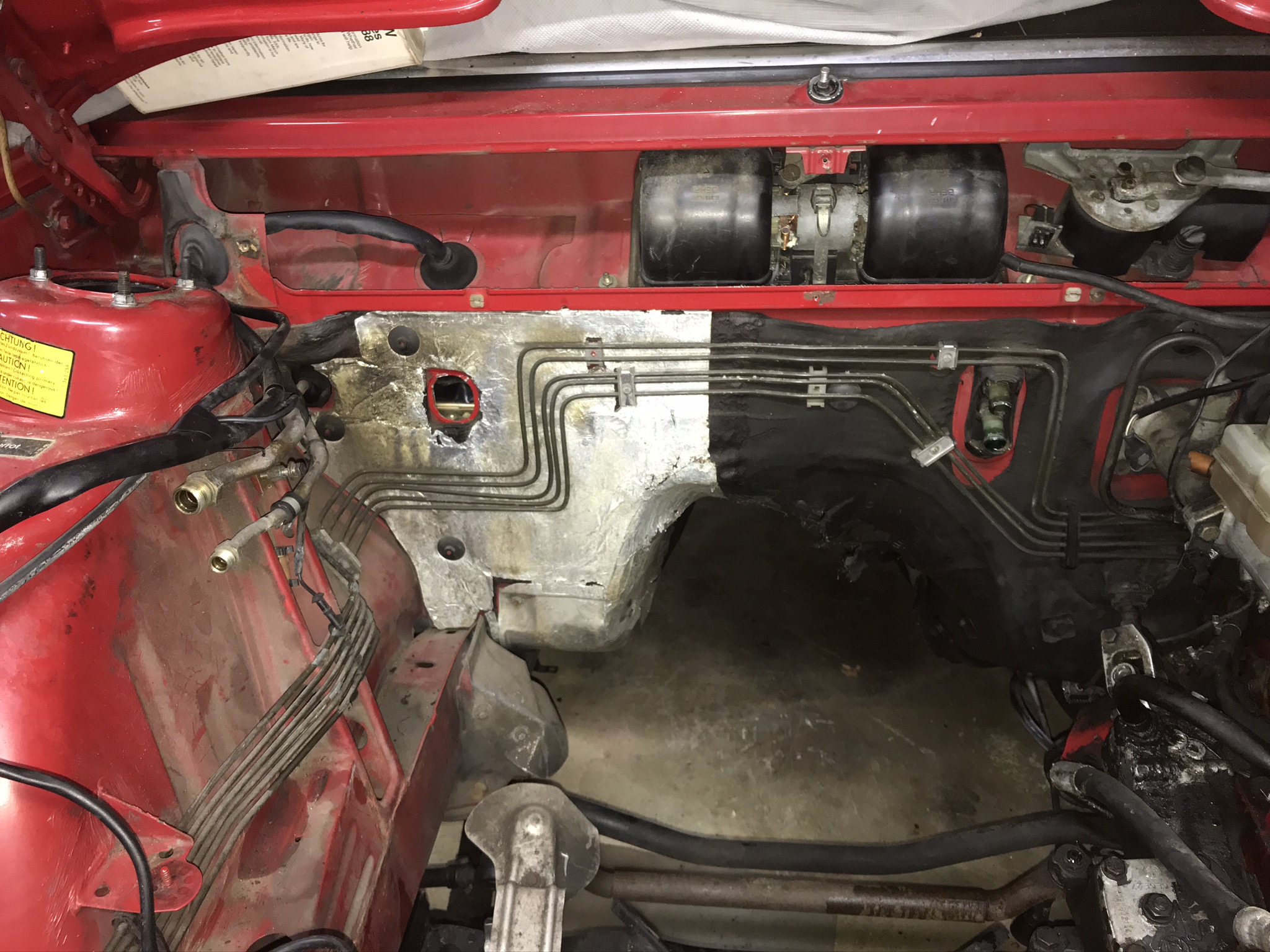 Third phase was the interior and all other exterior trim. Doors were disassembled including all exterior trim, but glass was left in to maintain seal during transport. Windshield and rear window were left in for that reason as well.
The disassembly was started December 15th and basically completed by mid-January, and the rolling body was off to paint January 20th.
Paint and Prep:
At the Painters, we did the following:
- Repaint in Zinnoberrot 138/3.
- Painting to including engine bay (up to firewall) and trunk floor and sides (up to seat wall).
- Paint all trim and plastic parts (mirrors, bumpers, etc).
- R&R rear valance panel (fix prior accident damage).
- Weld new M5 battery tray in trunk.
- Fix right front jack point rust.
- Fill front grill support holes (grill support was replaced with a US one by PO).
- Fix hood rust by the HVAC intake.
- Align all doors, hood, trunk, fender gaps.
- Remove 535i airbox mounts on right side of inner fender.
- Remove old Cruise control bracket on left inner fender.
- Mount M5 airbox mounts in original batter tray.
- Add threaded studs on right inner fender for M5 heat shield.
- Weld on new cruise control bracket under left inner fender bracket
- Add tabs for trunk trim on left and right sides of trunk.
- Replace front and rear window seals; install new windshield.
- Replace headliner, including sunroof headliner with Black M5 version.
- Paint door mirrors in body color. Paint C-pillar vents. Paint gas cap.
- Paint bumpers and all spoilers.
- Remove and install new gutter trim (shadowline).
- Remove and reinstall door arch chrome trim and B-pillar trim (all shadowline).
- Weld on steering box reinforcement to front subframe (extra to be provided). Fabricate and weld on brackets for heat shield and additional steering lock stops.
- Paint M5 airbox.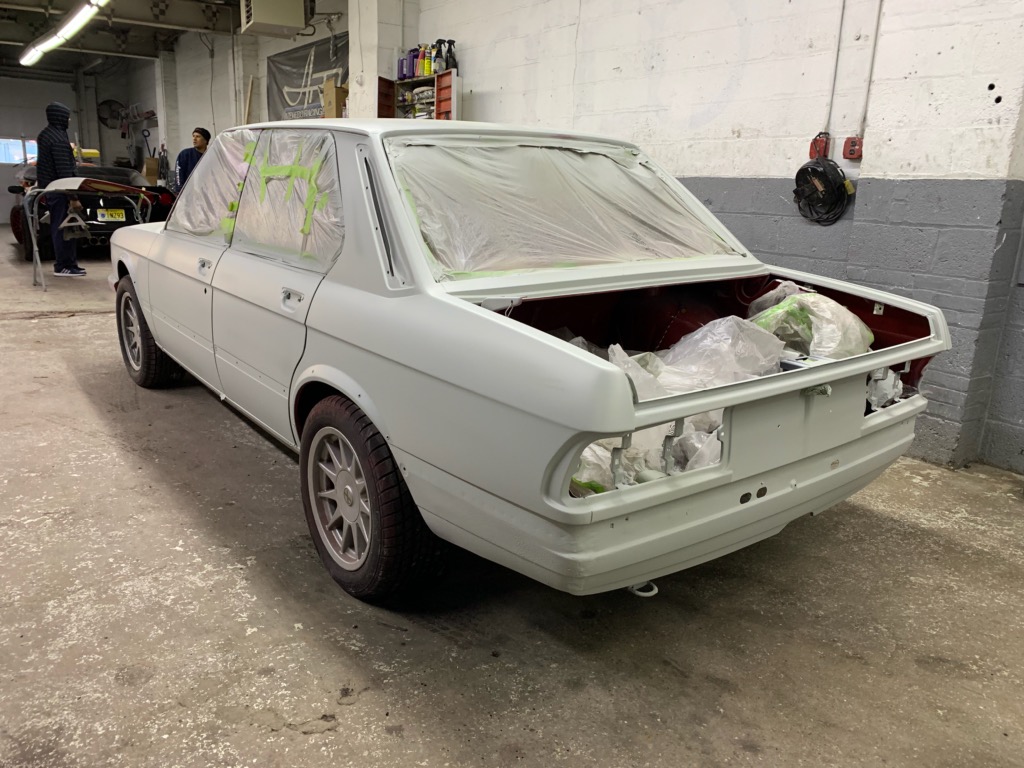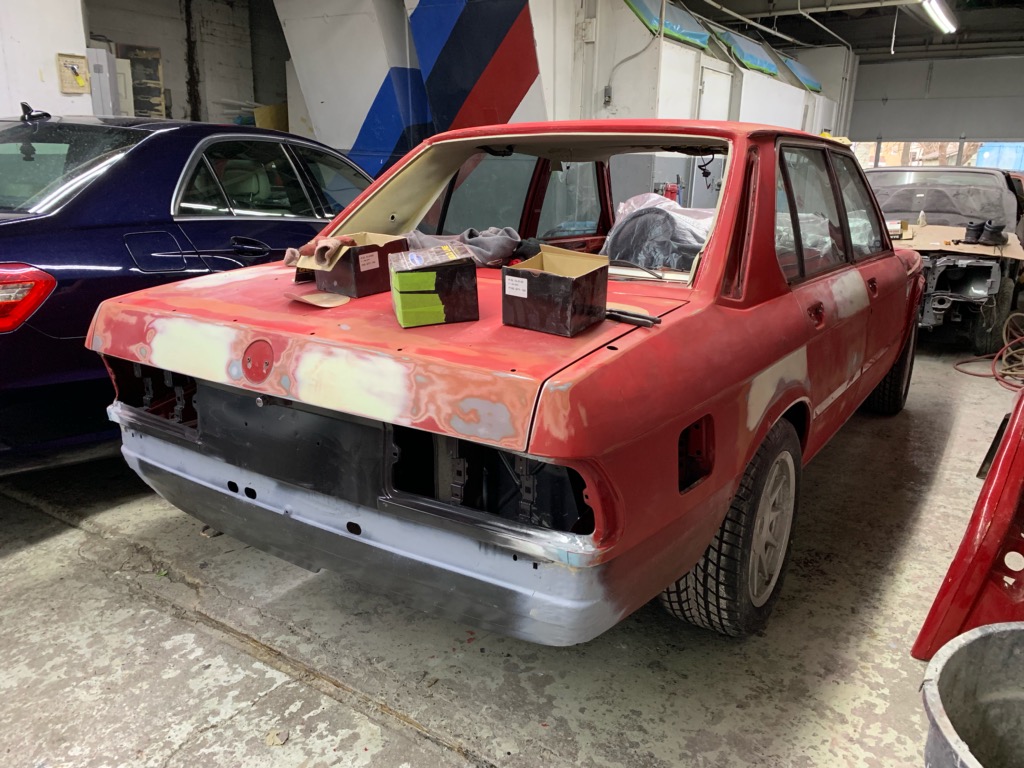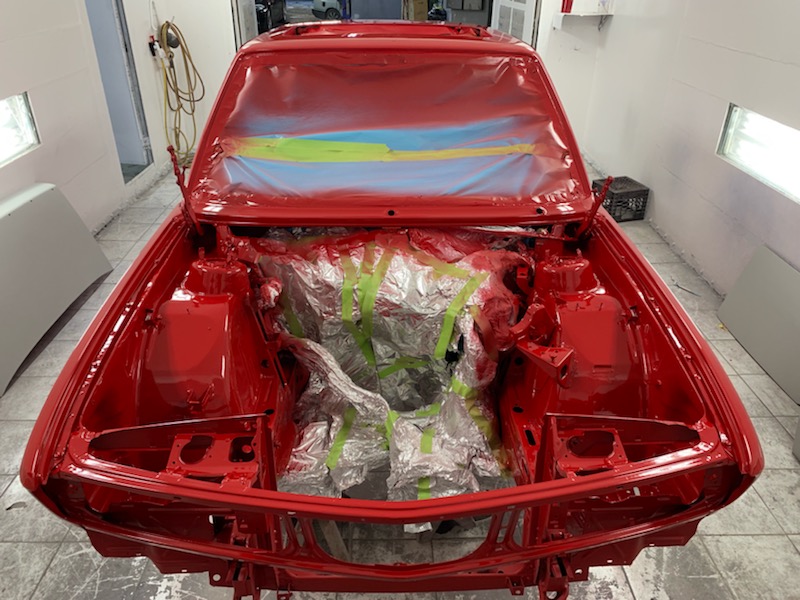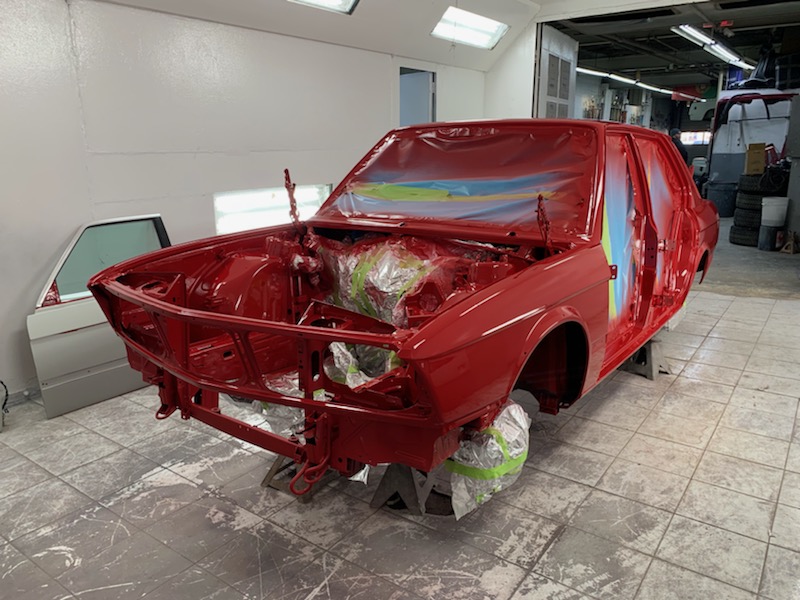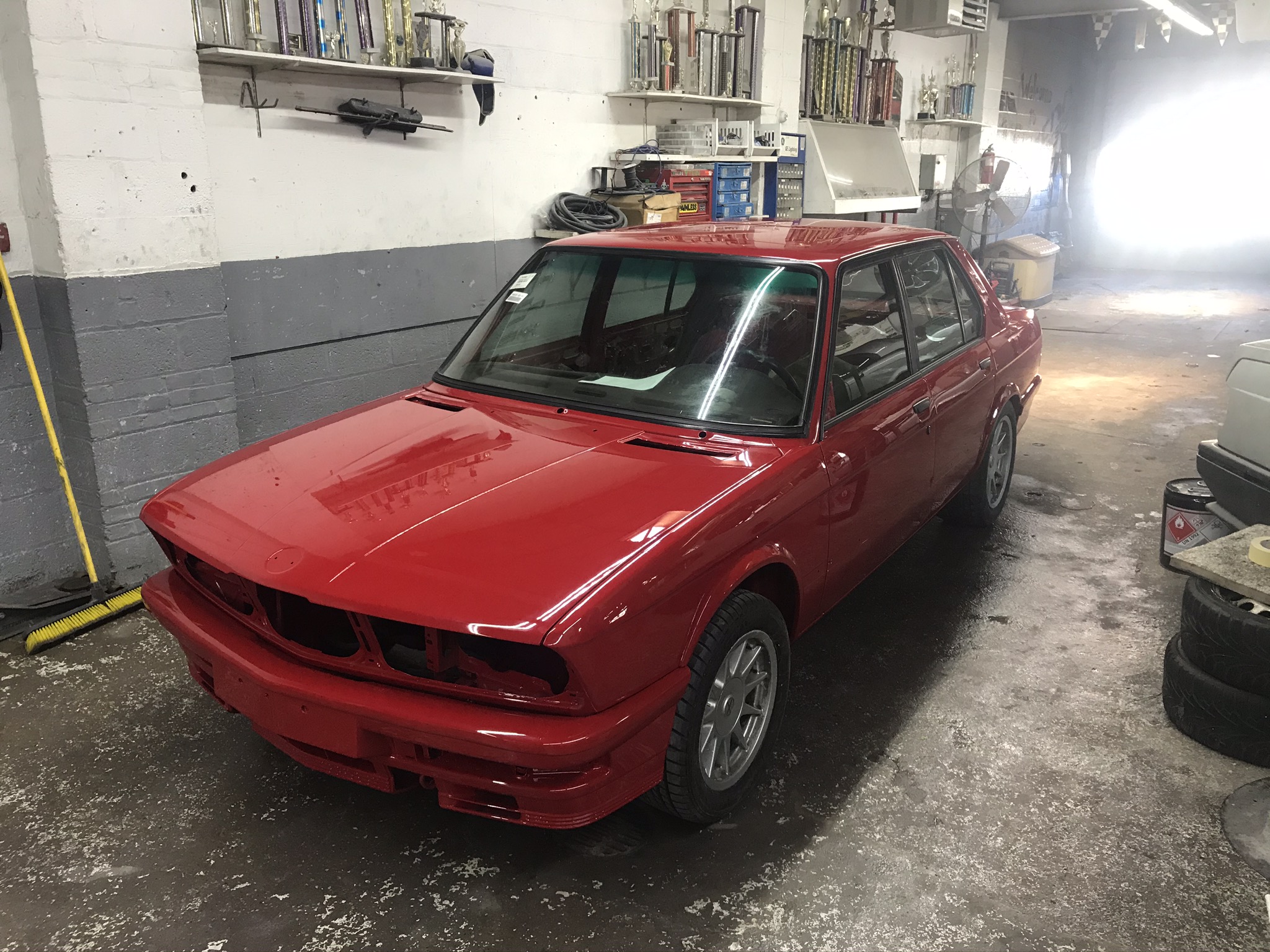 Up to now, the engine was getting rebuilt by Mr M Car in Farmingdale, New Jersey. I had dropped off the motor in 2018, but wasn't in a hurry, and he was able to get to it starting in November 2019. The motor had about 90k miles on it, and in good shape prior to its removal from my old E24. This was meant as a refresh/reseal, versus a full rebuild. The cylinders and pistons all looked good, as did the head and cams. The only real work that was needed were new exhaust valve seals as they were towards end of life. In total the work on the M88/3 included:
- Oil pump, rod end bearings
- All new timing chain and tensioner components
- Exhaust valve seals (and new valve seats and requisite machine work)
- All new seals and gaskets
- Intake and throttle rebuild
- Changeover to S38 throttle linkage to allow for cruise control
I picked up the engine in mid-February, and put together some final parts on it in prep for the installation.
Reassembly - the big 1 week build
The paint and body were ready on March 6th, and dropped off at my house on March 7th. Rob Anderson drove up to NJ from SC on March 8th, and we started reassembly on March 9th.
Day 1:
Focus here was to prepare the engine bay and the rear of the car, and prepare all the electrical. This included:
- Installing battery cable, rerouting all rear electrical harnesses, and components.
- Gas tank and supply components, including new pump, filter, hoses, etc.
- All new hydroboost components including PS lines, brake master cylinder, rerouting all the electrical in the engine bay, doing the fuse box wiring for the battery cable.
- Cruise control installation.
- Heat shields.
- Oil cooler and PS cooler lines.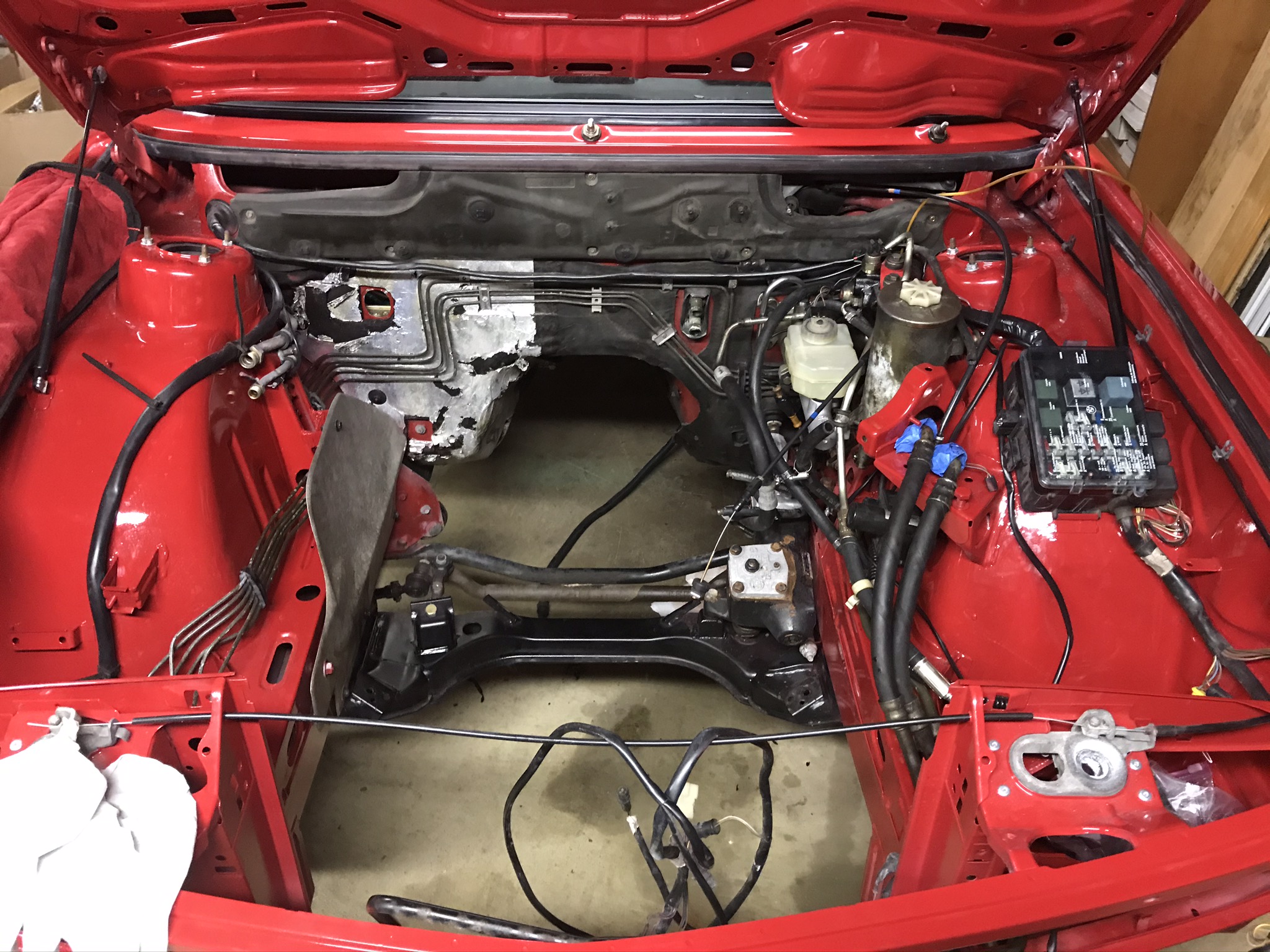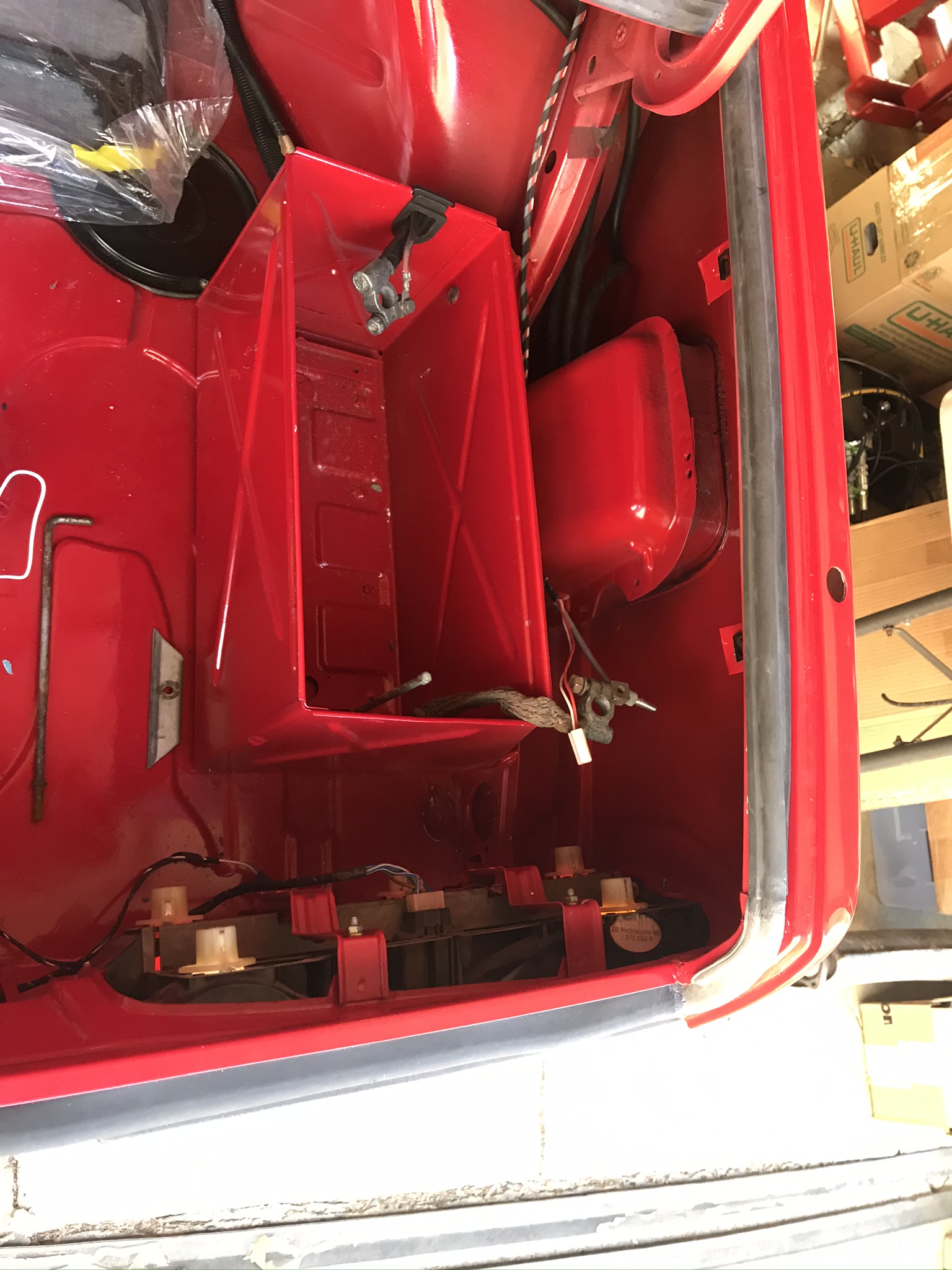 Day 2:
- Finish up battery cable wiring and engine bay electrics. Test battery cable (hook up battery in trunk). Install the condenser and A/C parts.
- Remove front subframe and steering box.
- Prepare the new subframe, install M5 steering box, and idler assembly.
- Attach accessories to engine including alternator, PS pump, compressor pump.
- Attach new clutch, pressure plate, and transmission together, prepare the assembly to go in.
- Then do the "marriage" by raising the car, rolling engine under the car, pulling it up, installing the subframe assembly, and then the rear trans bracket.
- At this point we started hooking up hoses and parts (oil cooler lines, PS lines, fuel lines, cooling hoses, AC hoses).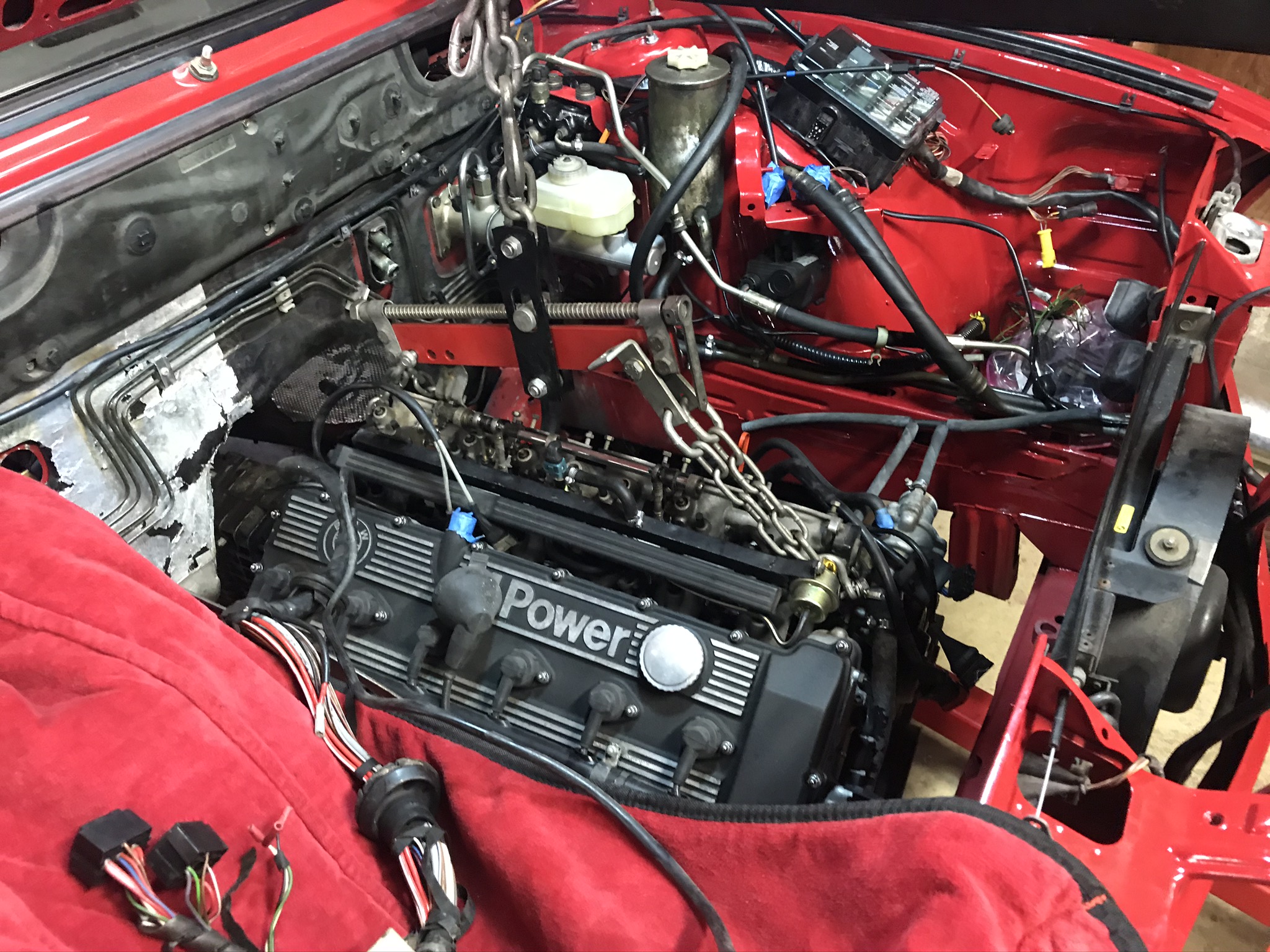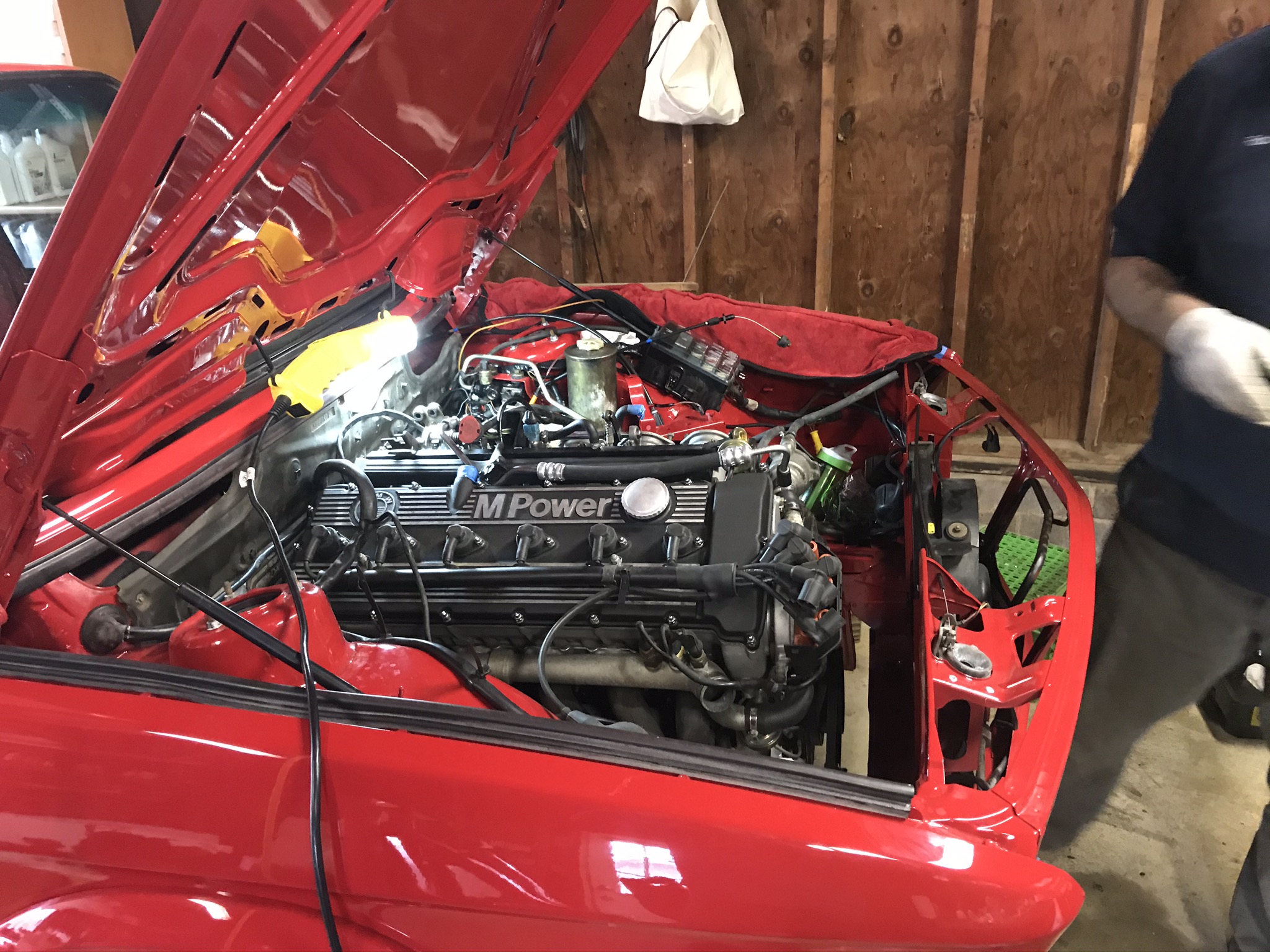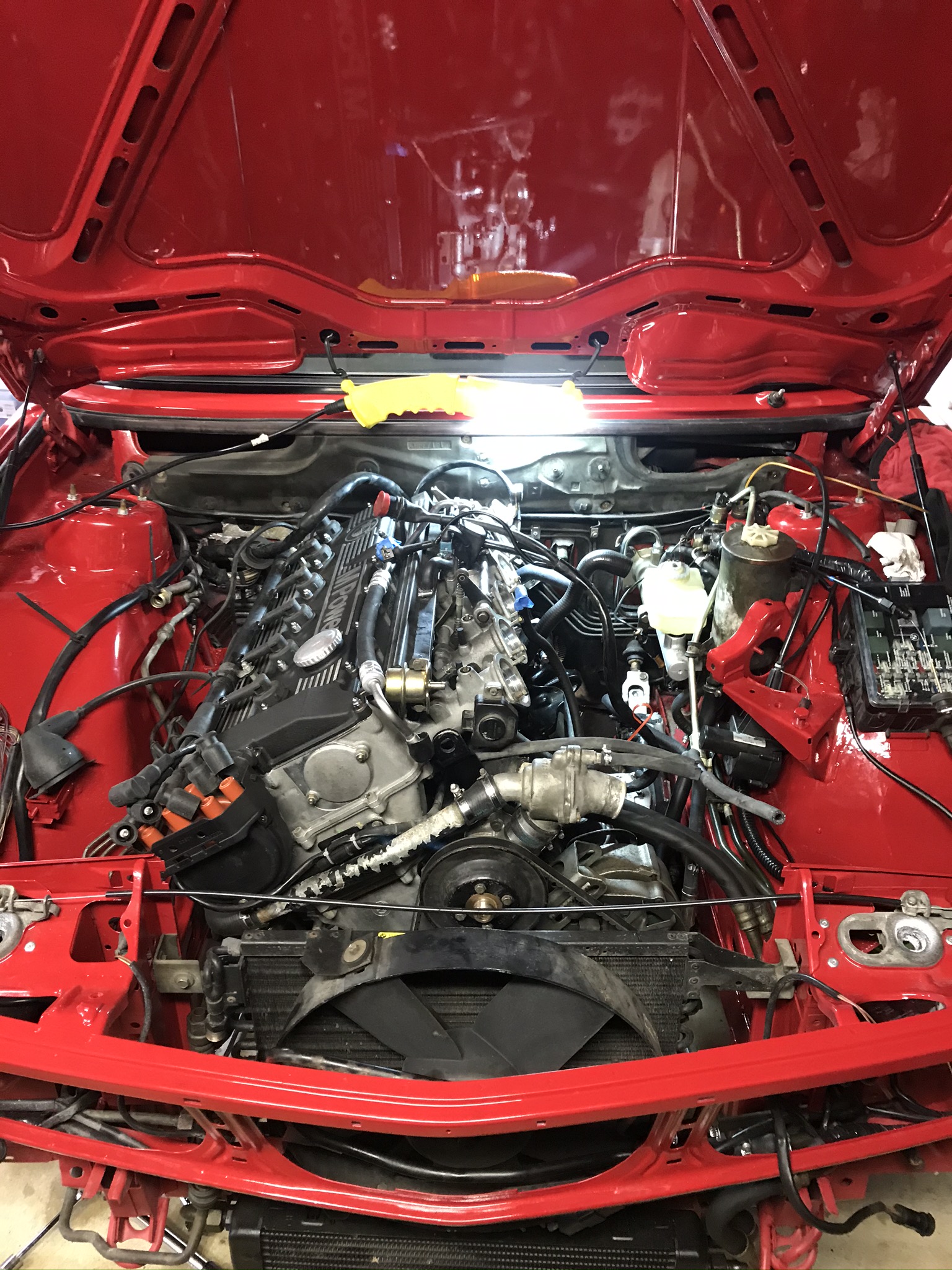 Day 3:
- Focused on putting together the engine wiring harness, hooking it all up, finishing up the cooling system.
- We unfortunately wasted 3 hours dealing with trying to put in a rebuilt alternator from Pelican, which didn't fit (their rebuild supplier was the issue), then having to back out and install the old one.
- Otherwise, we got to our goal of starting and warming up the motor, verifying there are no leaks by the end of Day 3.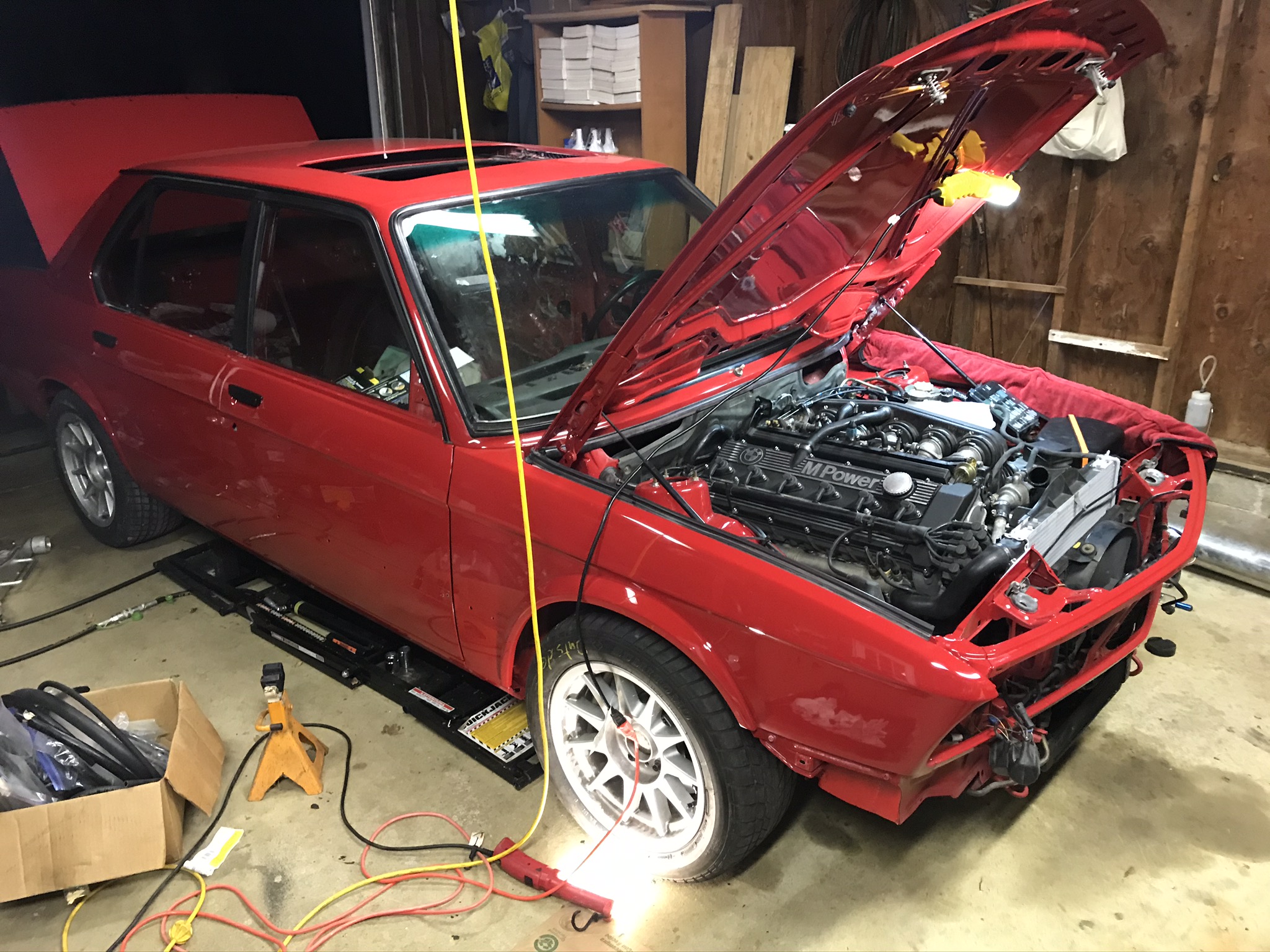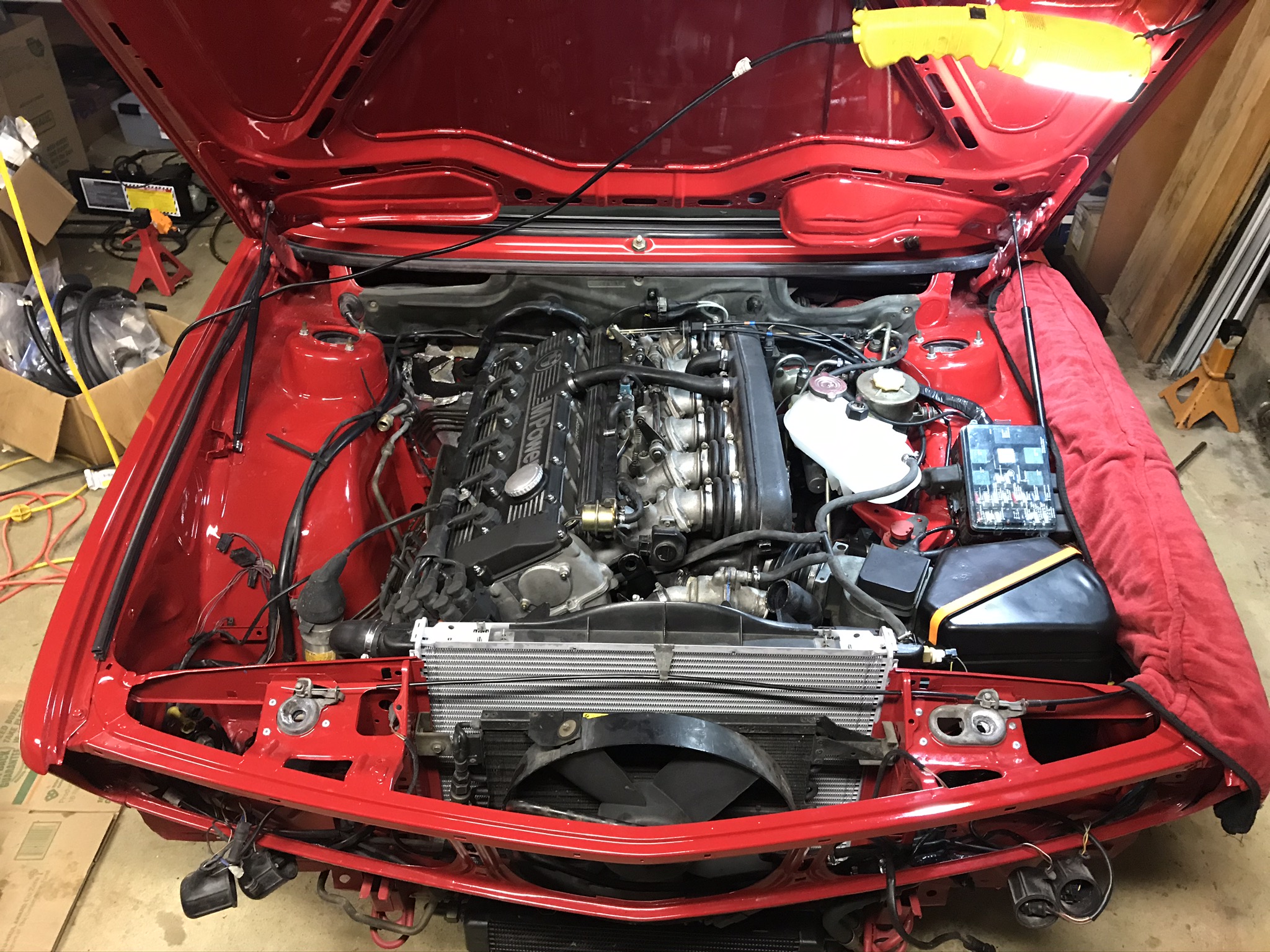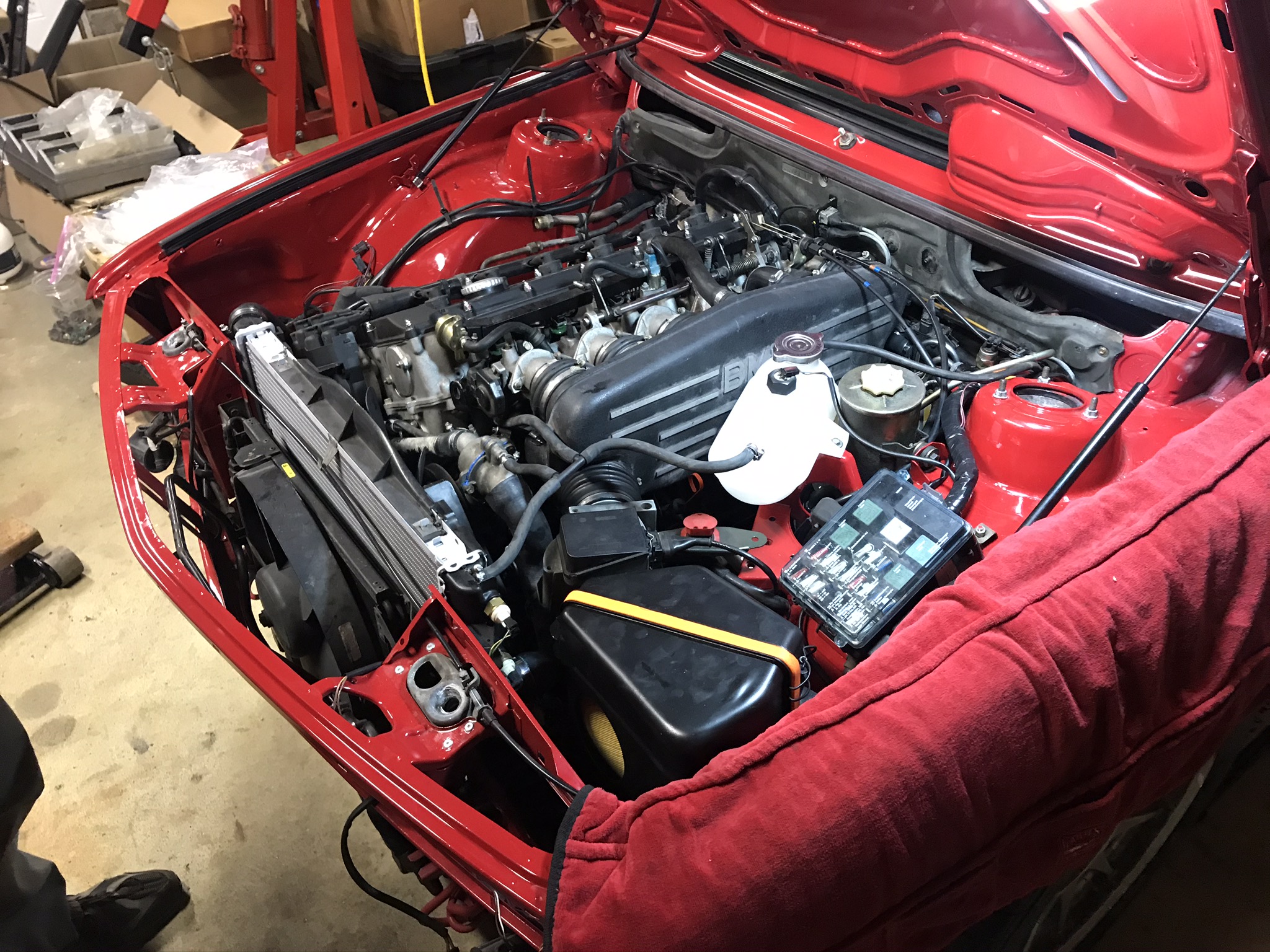 Day 4:
- This focused on the exterior trim components, door locks, rear spoiler retaped, and other small and related items. Basically getting the cabin water and wind sealed, the trunk water and wind sealed.
- Also in this included the sunroof seal, and visors/front headliner in.
Day 5:
- The focus was to get the car driveable so, this included finalizing some suspension items (new LCAs and tie rods), replacing a faulty AFM with my spare one, ensuring no leaks after our test start on Day 3.
- This also included new E31 Brembo brakes and full bleed of steering system and brakes.
- Also put in the front car seats, and front bumper.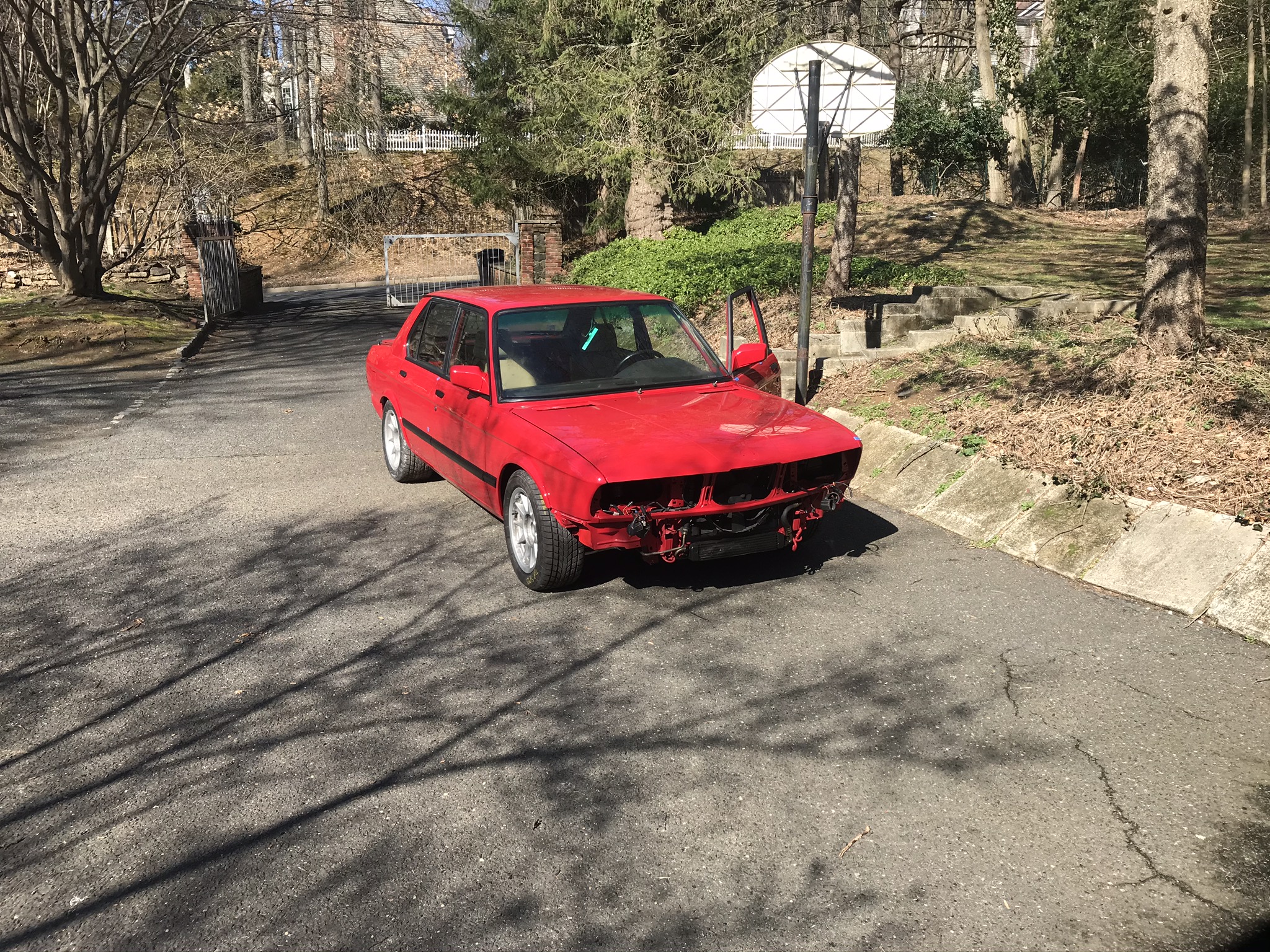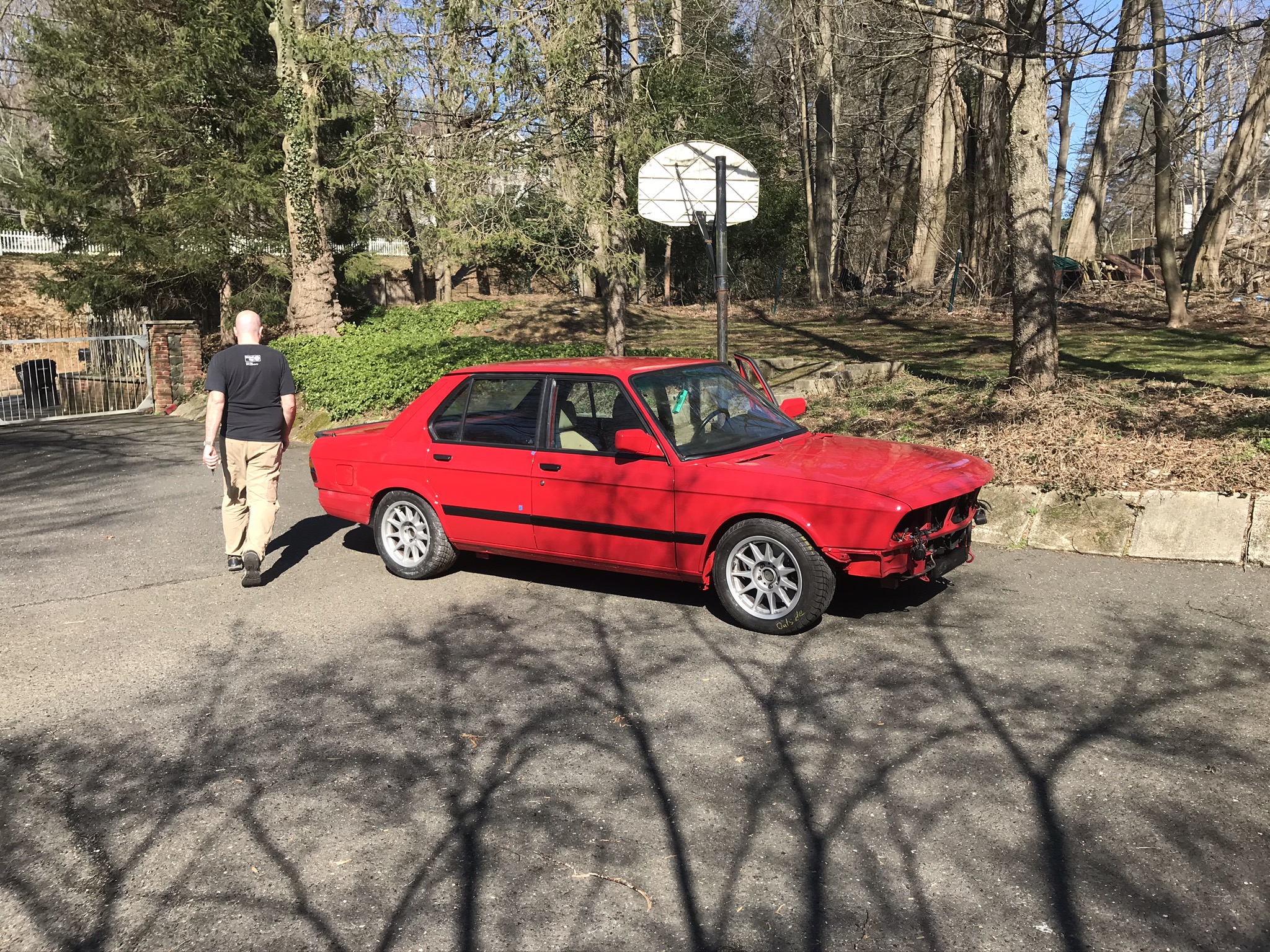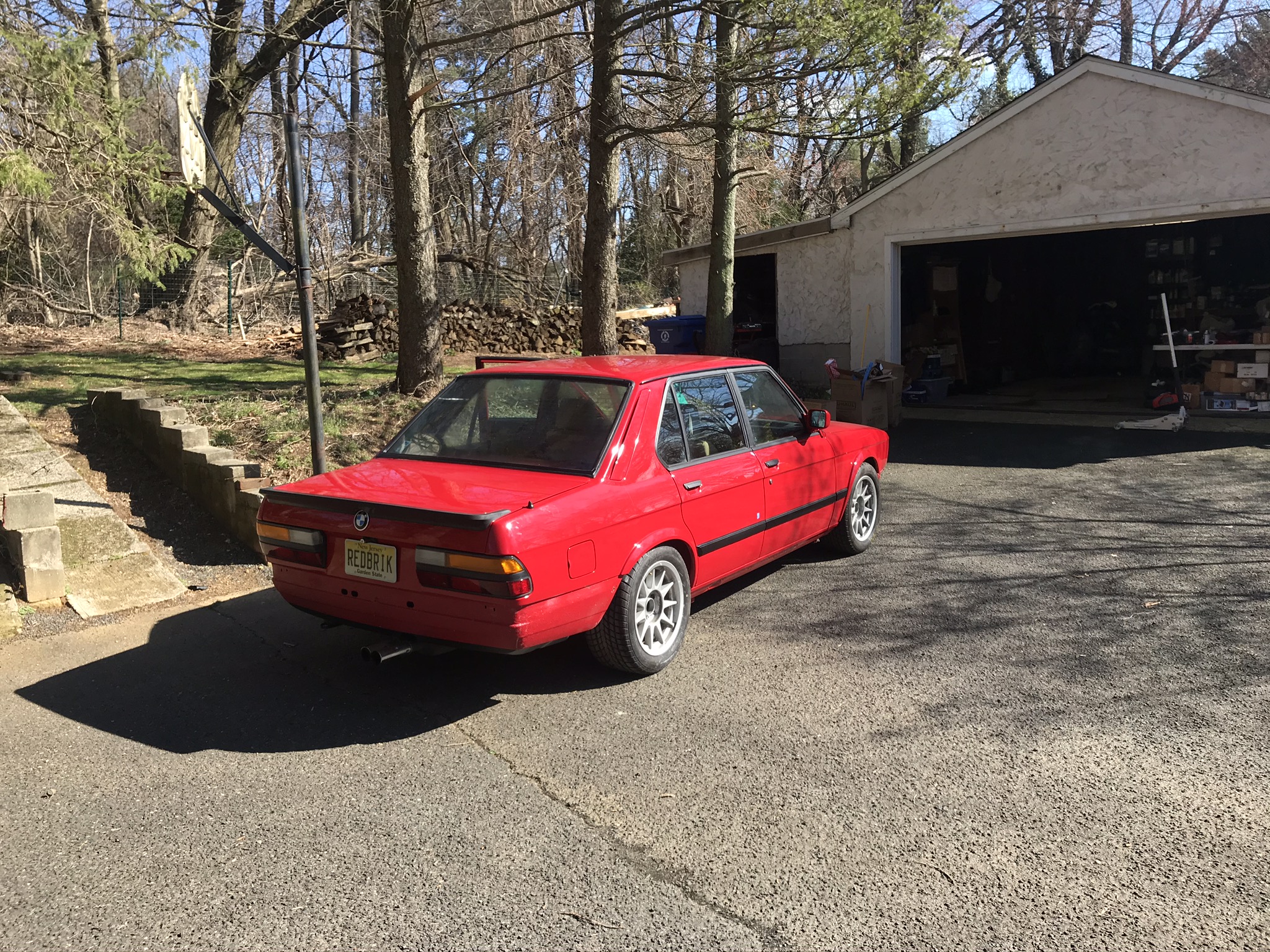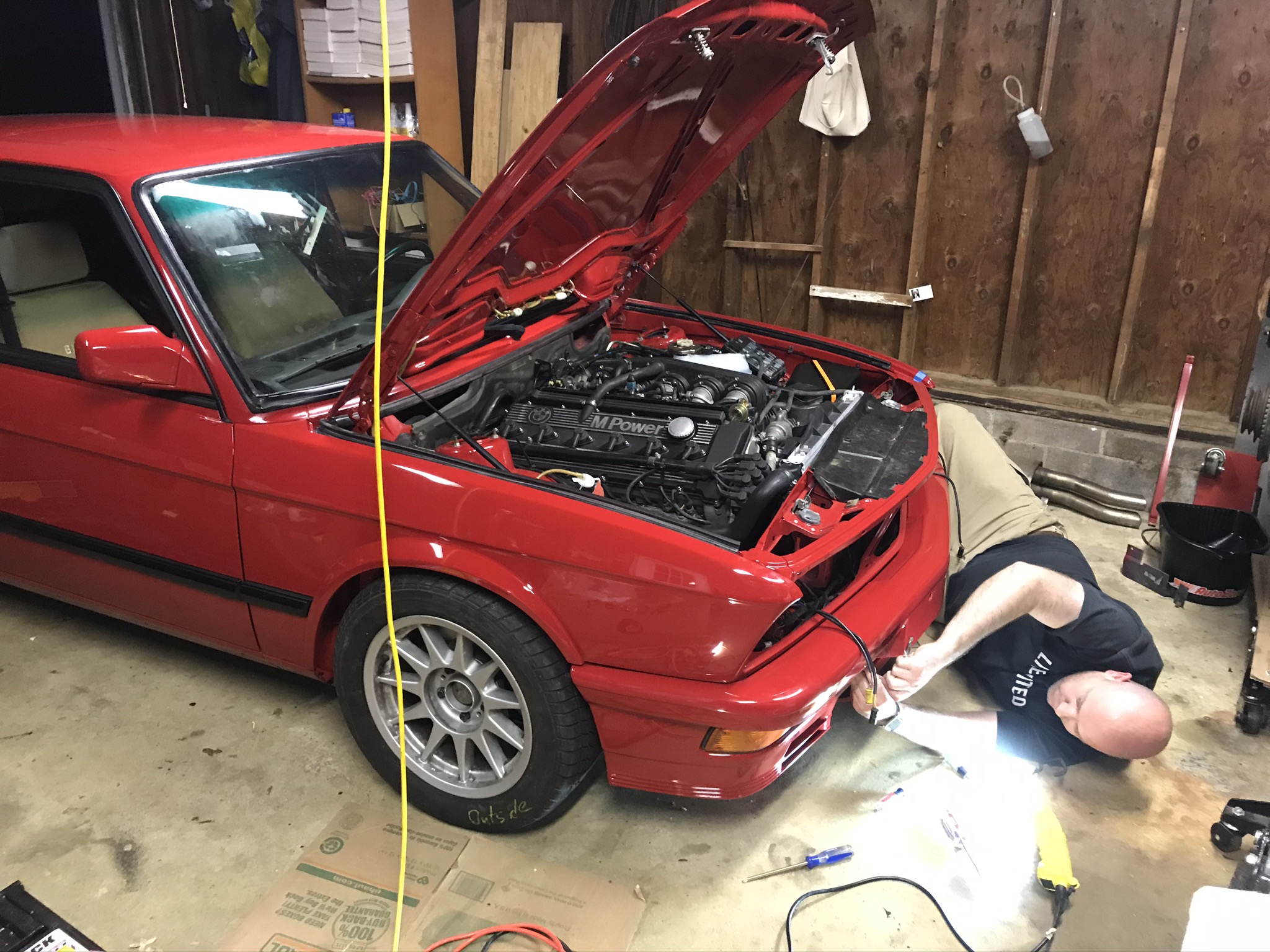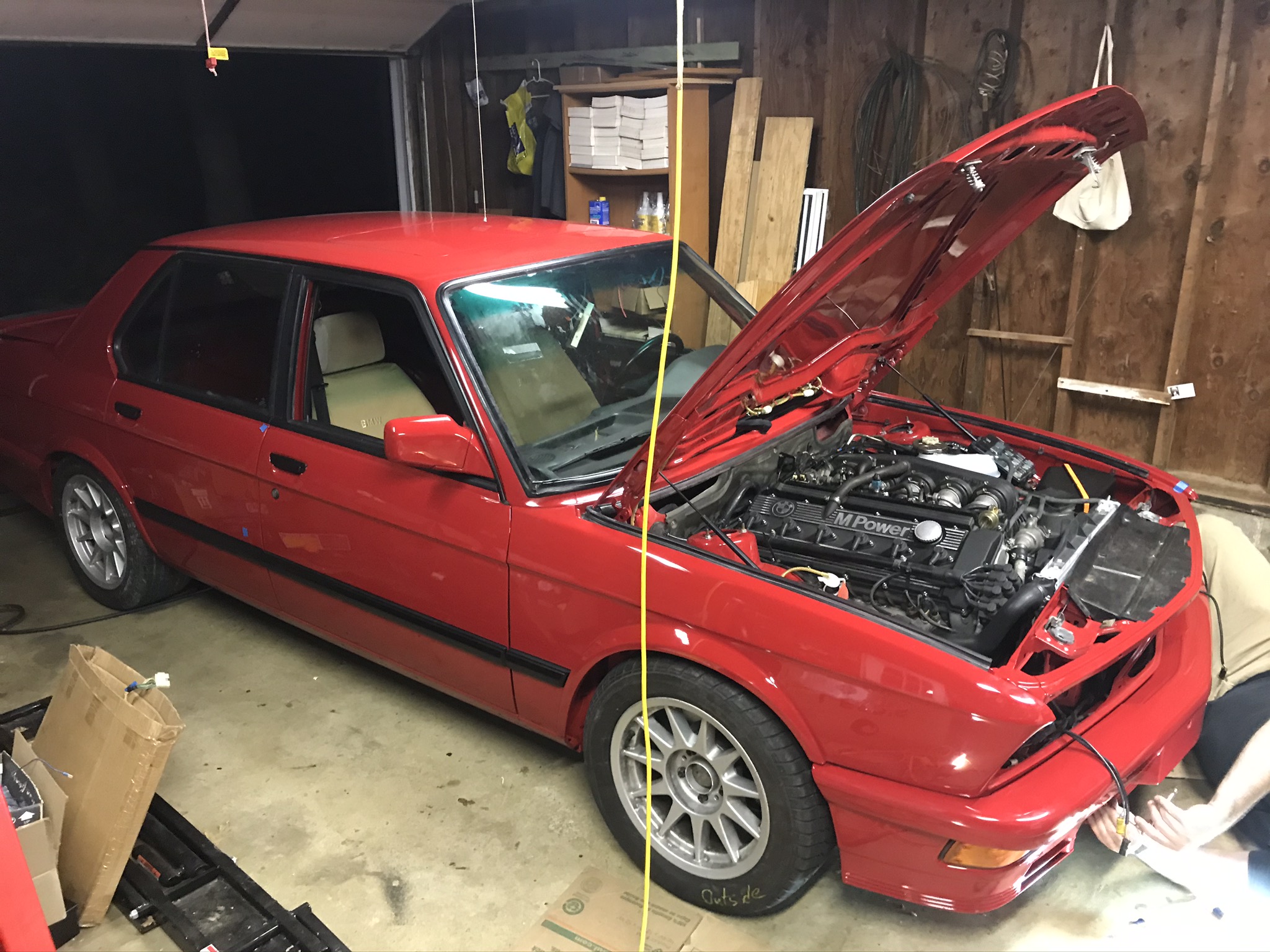 At this point, we had spent basically 10-person-days rebuilding the car into a driveable car. We took it up through 3rd gear on a 2 mile loop in the neighborhood, breaking in the brakes, and adjusting the brakes dead travel. We called it a success and Rob drove home on March 14th.
I had another day to day and a half of work left to do, which follows up on Day 6 and 7, which occurred in April.
Day 6:
- Focus for this day was finishing installing the interior rear seat area, the side skirts, the headlights.
- At this point the car is basically road legal, but not so to speak truly road worthy.
The remainder items to get it road worthy, that I'm having done at Mr M Car are:
- Alignment and re-bleed of brakes
- A/C fill and pressurization
- Set idle and verify throttle balancing
- New tires
And once I get it back, I just have a punch list of items, including:
- Install the door cards and rest of dashboard
- Minor electrical items (new door mirror motor, lock actuator, bulbs, hood insulation, some splash guards, and finish up headlight WiWa installation).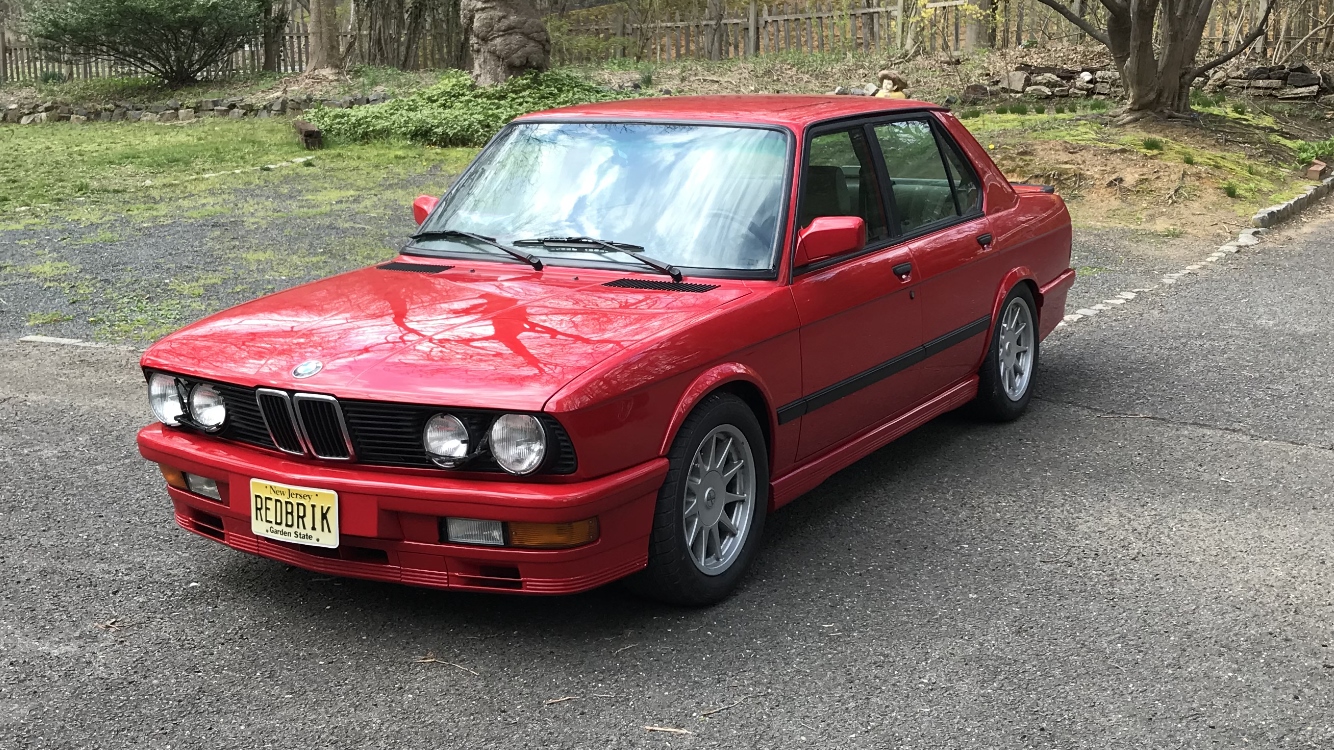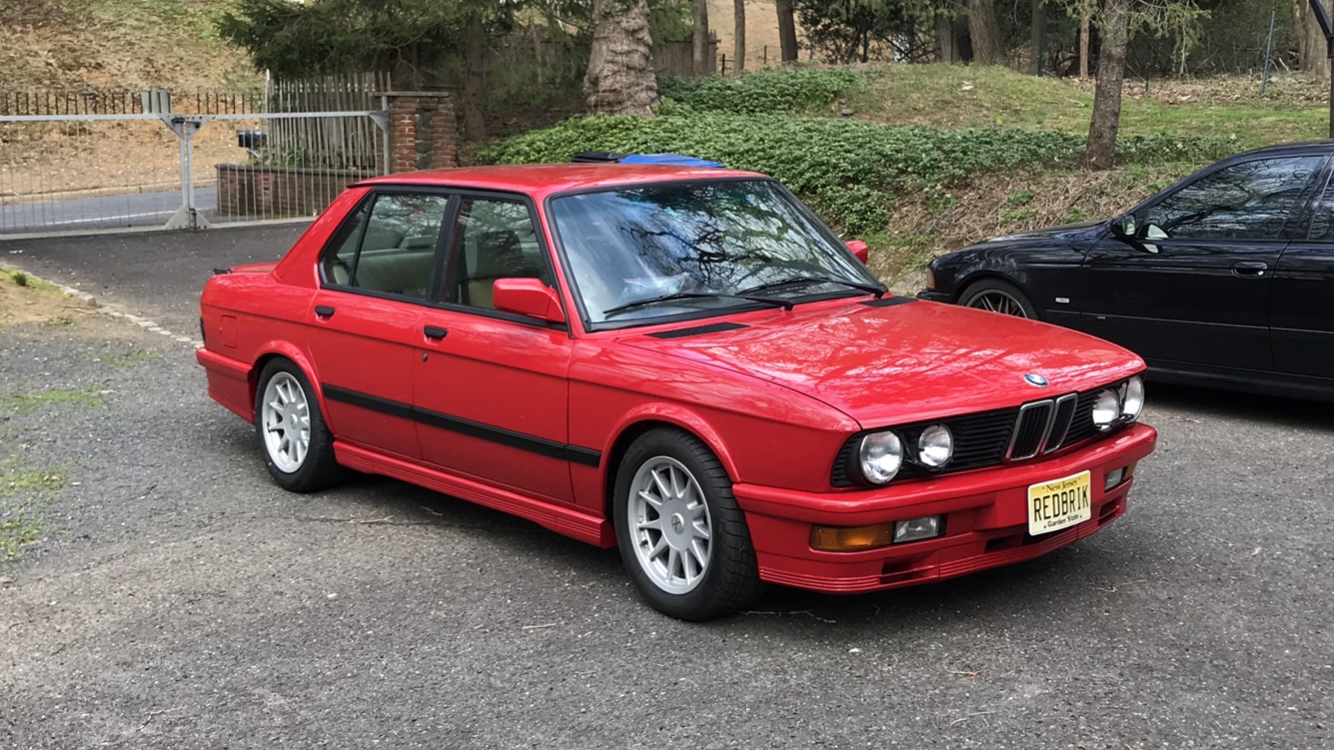 Day 7: Drop off at Mr M Car on April 23rd.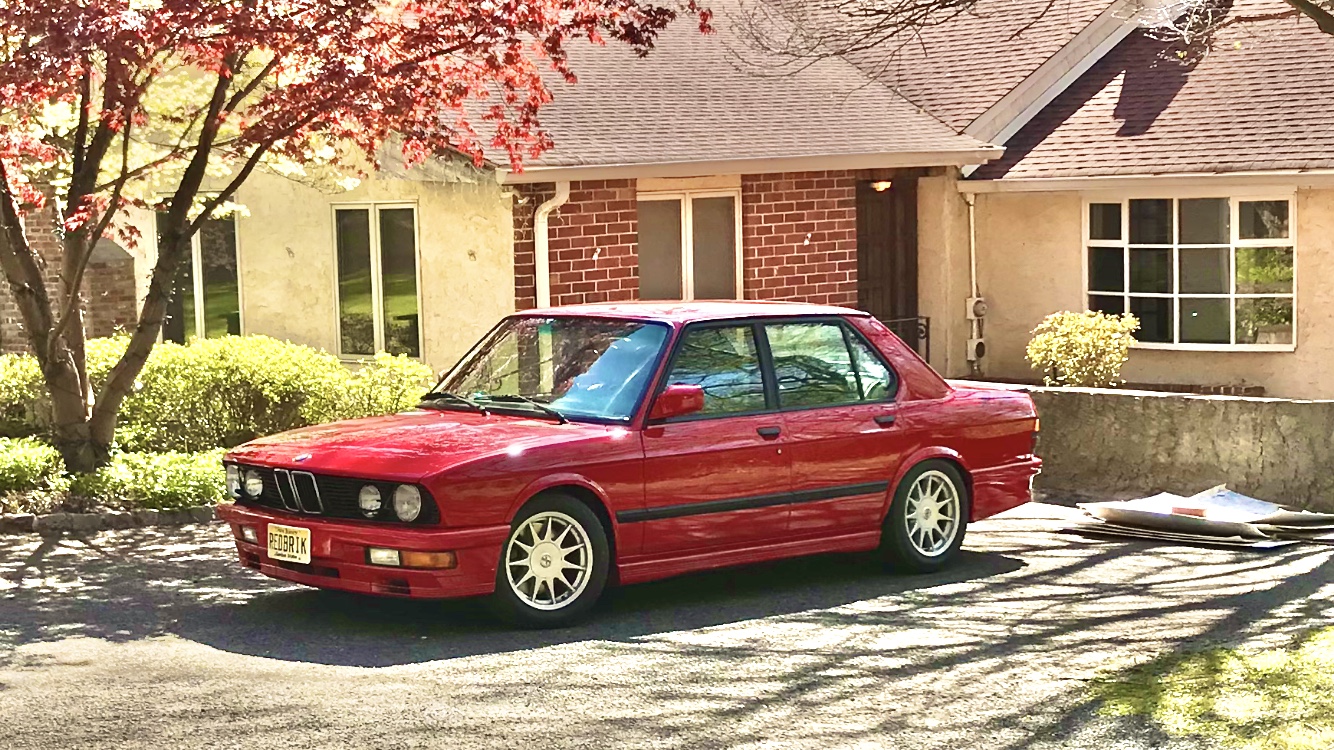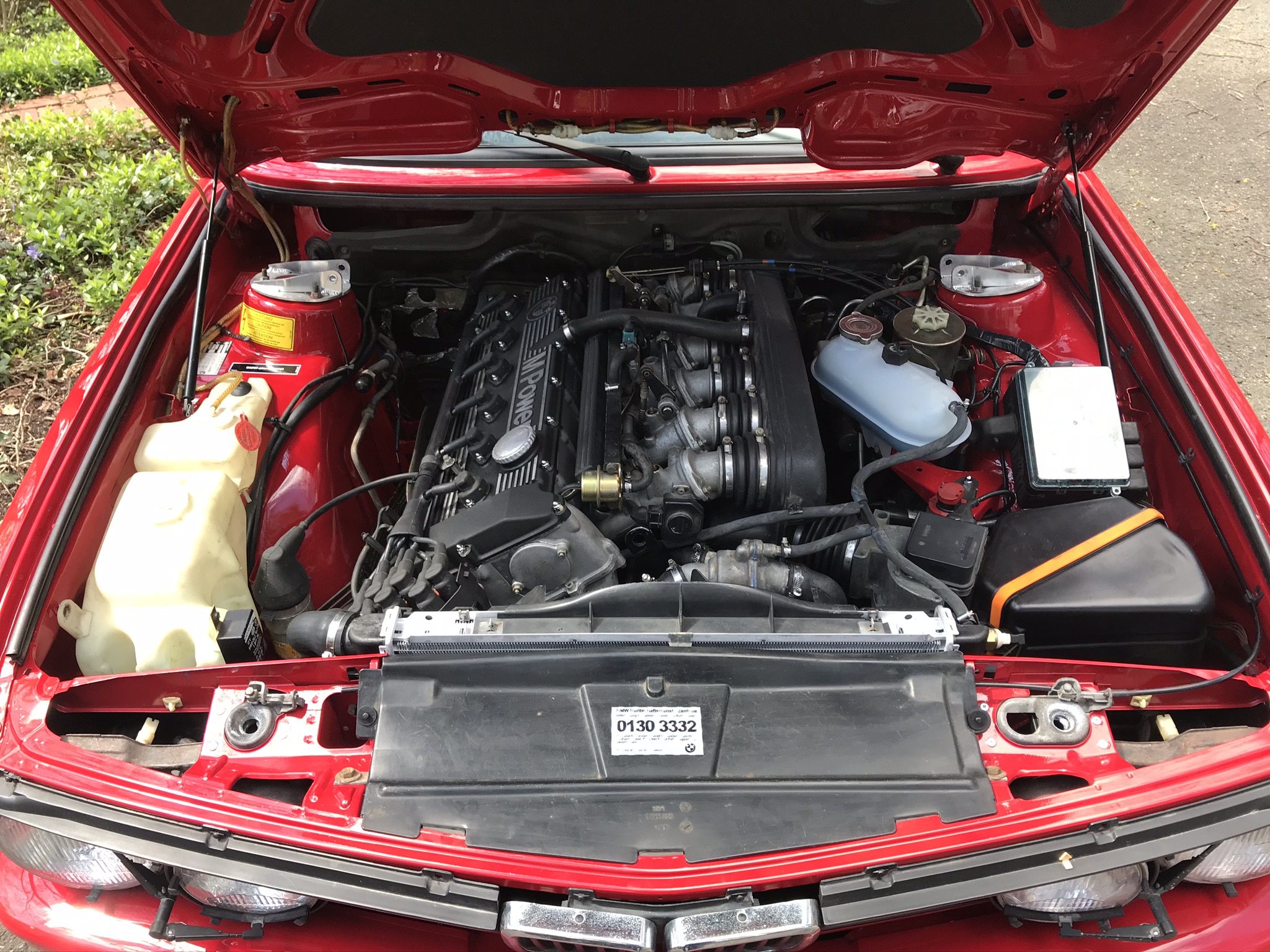 Since then, we've welcomed a new addition to our family who was born on May 3rd, and been focused on family since then. In addition, I've had to move the last of my parts and tools from the garage I was using for the swap. The residence (which was my parent's, and my childhood home) was sold and closed on May 18th. So it's been quite a busy past few months (Rebuilt a vintage car. Sold a house. Had a baby. Surviving a pandemic.)
I'm looking forward to getting Redbrik back sometime in June (with working AC!) and completing the punch list and driving her around.