I don't know about the rest of you, but I'm way past ready to put 2020 in the rearview mirror, so how about a fresh e28 calendar for 2021?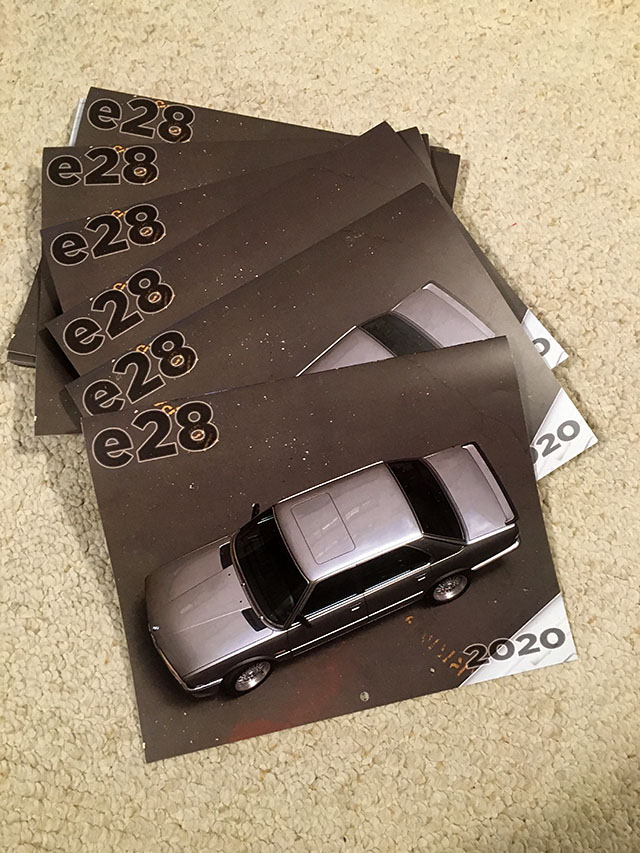 As in years past it'll be a 13 month calendar, full-color, and printed on heavy paper. And as usual, it will feature e28s throughout with photos provided by you all.
SUBMISSIONS
Please send high resolution photographs to david.g.thornton at gmail.com with "E28 Calendar Submission _yourNAME_" in the title of the message.
PHOTO SUBMISSION DEADLINE -- October 31, 2020
Here are the details:
PHOTOGRAPHY REQUIREMENTS
It's an e28 calendar; all automobiles featured in the calendar will be e28s, so limit your submissions to photos of e28s, parts thereof, or group shots that contain e28s. Anything E28 related. Engines, headers, turbos, interiors, windshield washers, headlight wipers, odometer gears, camshafts, piston heads, etc... Be creative!
The subject cars don't have to be pretty, but that certainly helps. Let me repeat that to help it sink in; The subject cars DO NOT have to be flawless garage queens. The very youngest of these cars were built almost 30 years ago, so signs of age, character, and patina are expected, and can make for some really interesting photo content. Interesting angles and lighting are also encouraged. If you gots photo skilz, put 'em to work.
Please submit images as large as you are able; bigger (as in more pixels) really is better (see * below for guidelines.)
LANDSCAPE ONLY. I can edit & resize the images, but please don't make that job more difficult by turning your camera sideways and making the photo taller than it is wide.
* To fill an 11" x 8 1/2" calendar page, the photo should be at least 3375 pixels wide x 2625 pixels high. More pixels is better; if it's too big, scaling/resampling it to fit is easy. Less pixels can work if it's within a few hundred pixels; resampling up can be done without much harm, but pushing the resampling too far in the wrong direction is A Bad Thing™, and results in a fuzzy, pixelated image, which we don't want on a calendar page (and will pretty much disqualify a photo.) If you've got a wide format photo that is more than 3375 pixels wide, but less than 2625 wide, it can be made to work with a little magic to expand the top and bottom regions.
If you have any questions about all of that, just ask.
Credit where credit is due; when you send photos, please tell me who took them and who owns the car(s) pictured. If you don't give credit, I'll assume that it's your car and you took the photos, but if someone else owns the rights to the photos, just tell me who so we can give proper attribution.
Include your full name, the subject car's model and model year, and the photographer's full name in the email.
If you submit a photo that finds its way into the calendar, you get a free calendar!
If you know someone who has drool-worthy cars that should be included, but doesn't often visit the site, by all means, let them know what we're looking for!
It's past my bedtime, and I'm tired, so if there's anything you have questions about, please post them in this thread or PM me. I learned a few things in years past, but I'm always learning, so thanks for your patience in all of it. And as always, if you have suggestions on how I could do things better, please let me know.
As for pricing, I still need to look at last year's numbers a little more closely before I set anything. As in years past, I'll offer a discount for calendars that are pre-ordered up to the point I actually place the print order, so there will still be plenty of time for anyone who wants to do that. Watch this space for updates. Thanks!